Rolando Gómez
 Producer | Writer | Author | Photographer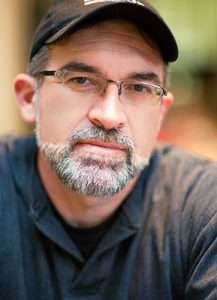 Rolando Gómez, a Desert Storm army veteran and member of the Imagine Impact Network has traveled on assignments to 45 countries as a professional photojournalist that included a cover story assignment for Parade magazine, circulation 32 million printed copies. He's authored five photography books and two self-help books, the latter earned him a favorable Kirkus Review plus in 2016, 2017, and 2018, he was honored as a Quora Top Writer.
During his 8-plus years as an active-duty soldier with the U.S. Army, Gómez served as the personal photographer for Gen. George A. Joulwan in Europe and Latin America. A Desert Storm veteran, Gómez left the Army as a Staff Sgt., non-commissioned officer in 1995 to become the Chief of Multimedia for the Air Force News Agency as a U.S. Air Force civilian where he oversaw photos and streaming media for the Internet television and radio programs on the multi-million-dollar-a-year website of the United States Air Force and was selected as the Senior Level Employee of the Year in 2004.
Selected by the Dept. of Defense as one of the "Top Five" military combat photographers worldwide in 1994, Gómez eventually left the military and transitioned to fashion, glamour, and beauty photography. He's taught over 800 photography workshops in the past 18 years and as a guest, spoken at major universities and photo industry events including the universities of Texas, Virgin Islands, and Calgary, plus the annual Photo Plus Expo in Manhattan, Fotofusion, Palm Beach Photographic Center, Samy's Camera, Photo Imaging and Design Expo, and the Los Angeles Center of Photography (LACP).
In the Fall of 2007, he conducted a 3-country, 7-city European tour for SUNBOUNCE and Calumet Photographic, Europe. Gómez holds a Bachelor of Arts Degree in Communication, Electronic Media, summa cum laude, from the University of Texas, San Antonio and is trained as a mediator in conflict resolution.
He's worked with and photographed many dignitaries including presidents George H. W. Bush, Bill Clinton, Jimmy Carter, vice-presidents Dick Cheney, Al Gore, Dan Quayle, Sect. of State Hillary Clinton, Chairman Joints Chief of Staff Gen. Colin Powell, Sect. of the Army Togo West, Army Chief of Staff Gen. Gordon Sullivan, and former NATO commander Gen. George Joulwan plus many foreign leaders and dignitaries.
Partial credits include: Maloof Sports and Entertainment, Studio(as a featured photographer and contributing editor), Parade (cover story), People, Newsweek, New York Times, Stars & Stripes, Playboy, Maxim, Sports Illustrated, Airman,Soldiers, PhotoInsider, Visao, PMA Daily, Rangefinder (cover story), Leica World News (feature story), Digital Imaging, St. Martin's Press, Peterson's 4-Wheel Drive, Keller Cresent Advertising Agency, Netscape.com, AOL/Time Warner, Evan Williams Bourbon, San Antonio Express News, La Prensa, South Texas Reporter, PhotoMedia, Shutterbug, Photo District News, D-Pixx (cover story), Zoom NL, Photographie, PROFIFTOTO, fotoMAGAZIN, FOTO-VIDEO DIGITAL, Camera Magazine, and numerous other publications.
Social Media Verifications
Found in Wikipedia, https://en.wikipedia.org/wiki/Rolando_Gomez
Verified on Quora, https://www.quora.com/profile/Rolando-Gomez-5
Verified on Twitter, twitter.com/rolandogomez
Verified on Facebook, https://www.facebook.com/rgomezphoto
Civilian Education
Bachelor of Arts Degree in Communication, Electronic Media, summa cum laude (4.0 GPA), from the University of Texas, San Antonio 2001 and an Associate Degree in Business Administration from St. Philips College, San Antonio. Gómez is also a State of Texas Mediator in Conflict Resolution. He is listed by the University of Texas, San Antonio as a "notable graduate."
Military Education
The U.S. Army Advanced Photojournalism Course from the University of South Carolina, Columbia, S.C. In addition he attended the Army's Intermediate Photojournalism Course at Ft. Benjamin Harrison; Multimedia Managers Course at Defense Information School, Ft. Meade; Dept. of Defense World-Wide Combat Camera Workshop, Ft. Meade; Primary Leadership Development Course with the 3rd Armored Division, Butzbach Germany and the Basic Noncommissioned Officers Course at Lowry Air Force Base, Denver Colorado.
Military Operations
Desert Storm; Operation Support Justice, Latin America Drug War Escobar Era; Operation Support Hope, Rwanda; Operation Uphold Democracy, Haiti
Military Awards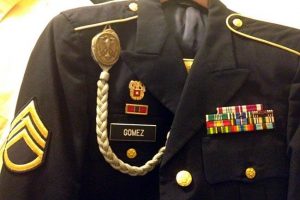 Gómez's military awards include the Department of Defense's Meritorious Service Medal, the U.S. Army Meritorious Service Medal, the Army Commendation Medal, the Army Achievement Medal (1 Oak Leaf Cluster), the Army Good Conduct Medal (2 awards), National Defense Medal, Armed Forces Expeditionary Medal (Haiti Invasion), Southwest Asia Medal, NCO Professional Development Ribbon, the Army Service Ribbon and the Army Overseas Ribbon (2 awards). U.S. Army qualification badges include the rifle, pistol, bayonet and grenade. Gomez also earned the German Armed Forces Badge for Weapons Proficiency, the German Schutzenschnur (shooting expert) medal in bronze from the German Army in Koblenz, Germany.
Military Service
8th Infantry Division, 3rd Battalion, Headquarters, Headquarters Company, Mainz, Germany; 5th Corps Headquarters, Special Troops Battalion, Frankfurt Germany; United States Southern Command (SOUTHCOM), Panama City, Panama; Air Force News Agency, San Antonio, Texas (both active-duty, U.S. Army soldier, Staff Sergeant, E-6, and Air Force senior civilian employee, GS-12.
"Discipline is doing what you're supposed to be doing when no one's watching." ―
Gen. (ret.) George A. Joulwan, Supreme Allied Commander Europe